This week's feature is a 1,200 sq ft guest house in Wannaska Minnesota.
Welcome to the 111th post in the series
"Living Large in Small Spaces".
This 2 bedroom, 1 bath guesthouse began life as a shed, 130 feet behind the primary residence. The same architect who helped with the remodel of the owner's home was called in for the shed remodel. To keep the costs down -- which was important to the owners - the architect specified
off-the-shelf materials, such as corrugated siding and standard-size windows, although he did use windows in varying sizes to give the building an "eclectic look".
The front door opens into an open plan living/kitchen/dining space. A chimney pipe was installed for a future woodstove.
The island is on wheels, which makes it possible to move it out of the way to open up the space.
Furniture and accessories came from estate sales.
On the ground level the floors are stained concrete.
Tall tree trunks harvested from the contractor's own woods act as support beams.
Boards for the stair treads and bookshelves were milled to leave their bark edges intact.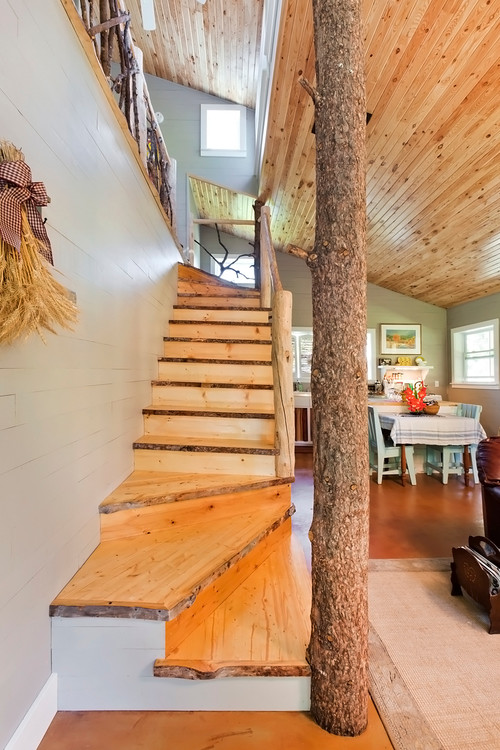 Rustic branches were pieced together for the uppermost balusters. The stair rails and newel post are peeled poles.
There's no shortage of natural light in this home, thanks to the many windows.
The ceiling, and hardwood floors on the second level, add warmth to the space.
The bathroom's s
teeply pitched pine ceiling is a stunning contrast to the white shiplap walls. A
4-foot-long vintage tub is perfect for this small space.
Whitewashed ceilings on the second floor allow the wood grain of the knotty pine to show through. The quilt pieced with vintage ties was a thrift store find.
Looking down from the upstairs landing gives a clear perspective of the size and layout of the ground floor. At the top of the photo you can see a door leading to the screened porch.
The porch has a beautiful view of the river.
Out in the yard a 1968 Volkswagen Beetle -- driven from Boston to Minnesota in 1972 by the husband to join the woman who would become his wife -- has remained a nostalgic member of the family. Once it wore out it became a play car for the couple's sons. Today their grandkids play in it.
This may be a guesthouse, but I could live in this woodsy-inspired home full time.
Join me next Saturday for another post in the special series
Living Large in Small Spaces
See more home tours in the
Living Large In Small Spaces Series here.