A renovated studio apartment in Brooklyn, New York is this week's Living Large In Small Spaces feature.
Welcome to the 104th post in the series
"Living Large in Small Spaces".
This light and airy space is filled with innovative ideas that make interesting use of its 400 square feet.
Reclaimed ceiling beams and maple floors bring warmth to the space. Lath panels were used to
create a bedroom nook. New lath was coated with a
mix of water-thinned white primer and a little gray paint to give it an aged appearance.
An Ikea bed with large storage drawers acts as a base for the lath panels.
The lath panels are a clever solution in that as well as giving privacy they add texture, interest, and allow filtered light to flow into the nook.
The nook's placement created an entry area for the apartment.
Very cozy. White on white gives the illusion of space.
This studio apartment is bright and crisp.
The unique kitchen island was handmade. A log was sculpted into a spool shape with a chainsaw and finished with grinding and sanding. Then white lacquer was applied and allowed to soak into the wood. Finally, the island was assembled from the spool and two pieces of live-edge cherrywood.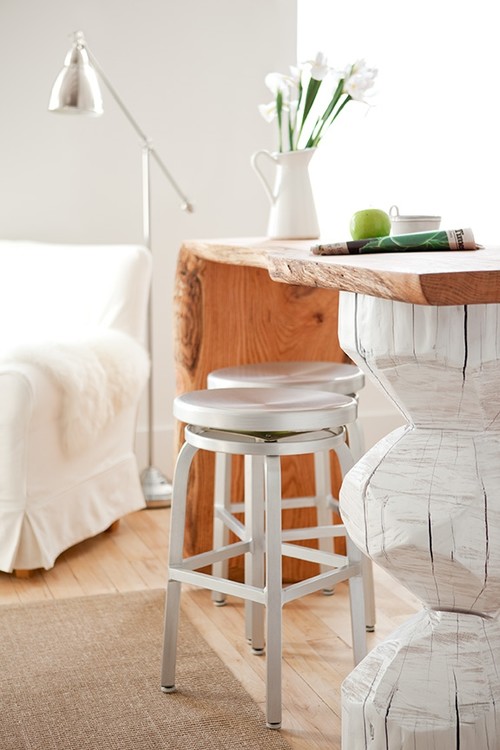 The kitchen has full-size appliances, and with the addition of the island the prep space is adequate.
Enclosing the shower with glass is a smart idea in a small bathroom.
This is a nice space for a single person.
There are some design elements of this studio that I, personally, would change. I won't tell you what they are, but feel free to guess or add your own critique of the space.
For more details and information about this space see the Houzz article here.
Join me next Saturday for another post in the special series
Living Large in Small Spaces
See more home tours in the
Living Large In Small Spaces Series here.